Photo Rejuvenation Treatment
Photo rejuvenation (IPL- Intense Pulsed Light) laser treatments are most commonly used for:
Lightening and removing "sun spots", "age spots",  and brown blotches on the face, neck, chest, hands and other areas of the body
Lightening and reducing redness, rosacea, dilated blood vessels and "broken" blood vessels on the face, neck and chest
Helping to control flushing
It also has a lesser effect of improving skin texture through collagen stimulation and improves pore size minimally by temporarily reducing oiliness.
Most people need 3-5 months, which consists of a full series of 3-5 treatments about 1 month apart.  You can see some improvement with each treatment, but it's common for your response to be slightly different to each treatment. The more sun damage or redness you have, the more likely you are to need a full five treatments.  Some cases of severe redness or brown spots require more than 5 treatments. Expect to see gradual clearing over time.
Photo Rejuvenation which is an intense pulse light is most commonly used for:
Lightening and removing age spots/ sun spots/brown blotches
Lightening and reducing redness, rosacea, dilated blood vessels and
broken blood vessels
Improves skin texture
Minimises appearance of large/open pores
Improves collagen stimulation
Helps to control flushing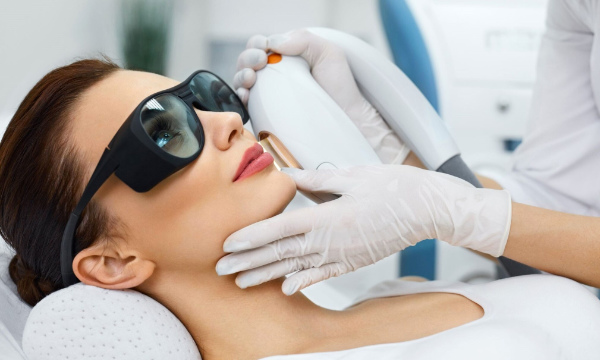 Frequently asked questions
| Area | 1 Session | 3 Sessions | 6 Sessions |
| --- | --- | --- | --- |
| Legs | £249 | £635 | £1,245 |
| Hands | £59 | £150 | £295 |
| Full Face, Neck & Chest | £189 | £482 | £945 |
| Full Face & Neck | £169 | £431 | £845 |
| Face | £129 | £329 | £645 |
| Arms inc. Hands | £199 | £507 | £995 |